Special Handling & Moving
Special Handling & Moving Projects
Our boat transport company can handle even the largest of loads!
We can handle and move oversized boats and other objects across New England.
Our hydraulic trailers are capable of safely handling oversized objects with ease. And we have more than 60 years of experience doing it, so you can trust that your equipment is in safe hands. We handle vessels up to 75-feet long and 200 tons in weight, and we can also haul and launch these large yachts and commercial vessels from boat ramps. When you choose to work with Brownell Boat Transport, you not only gain access to our high-demand hydraulic boat trailers, but you also get to take advantage of our expert project consultation and logistical engineering planning. We'll work with you every step of the way and make sure you have a clear understanding of our plan and how we will execute the move. Contact us today to get started.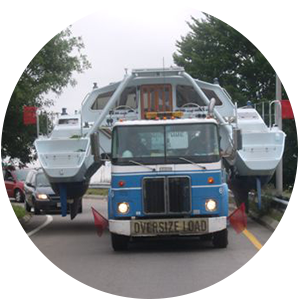 We've safely moved:
Trains.

Large Tanks.
200-Foot Long Poles
Towers.
Lead Keels
Large Masts.
And More!
Special Marine Transportation Projects
BOATS TO 200 TONS MOVED INTO AND OUT OF BUILDINGS
SELF LOADING AND UNLOADING TRAILERS
RAMP HAULING AND LAUNCHING
SUBMERSIBLE EQUIPMENT AND UNDERWATER WORK
TEMPORARY RAMP INSTALLATIONS
HULL ROLLOVERS
KEEL TO HULL JOINING
LARGE MAST HANDLING
OVER DIMENSIONAL SUPERLOADS
LOW CLEARANCE MOVING
Specialized handling and moving of oversized and heavy boats and other objects
Our expertise includes special handling of yachts and commercial vessels up to 175 feet long and 200 Tons. Our 50, 100, and 200-ton trailers are capable of hauling and launching large vessels to and from boat ramps. Our team can move the vessels into and out of buildings and tight spaces with ease, and we also have the ability to self-load and unload without the use of a crane or lift.
The flexibility of our boat hauling equipment allows for self-loading and unloading, water submersion, and movement of oversized and heavy objects. Some of our completed projects include the movement of trains, large tanks, 200-foot-long poles, towers, lead keels, barges, and floats. Other boat hauling services include rollovers, keel to hull joining, and large mast handling. Contact Brownell Boat Transport for project consultation, structural and logistical engineering and planning.
What makes a shipment a wide or oversized load?
A load of any kind is generally considered oversized if it is wider than 8 feet 6 inches, longer than 48 feet, or weighs more than 46,000 pounds. These requirements vary by state, though, so you'll need to look into your state's wide and oversize load laws. If you're unsure of whether or not your vessel is oversized, we can help! We frequently haul oversize loads throughout New England and understand the regulations and restrictions. We specialize in carrying loads safely and understand nuances like safety flags, pilot vehicles, wide load banners, and more. With proper planning, wide load boat hauling is very manageable and goes smoothly! Check out our service area and contact Brownell Boat Transport today to get started.
Comprehensive Oversize Load Transportation Services
Hauling oversized loads takes experience and special considerations. Not only are there permits and logistical travel paths to consider, but you're also entrusting a very expensive boat or piece of equipment to a transport company. Here at Brownell Boat Transport, we take that responsibility seriously, and we treat each vessel as we would our own. More so, we have the experience to do the job right. If you're looking for a special handling and moving project, get in touch with us today. We'll listen to the specific details of your job, create a plan of action, and provide you with a thorough, accurate quote.
Brownell Boat Transport Company
Our family owned business is based in Mattapoisett, where we operate a boater-friendly, do-it-yourself boat storage facility in Mattapoisett, and you can make a reservation here. Along with our storage facility, we also provide boat transport services to cities across New England. We launch, haul, transfer, and provide boat hauling services for all kinds of vessels — including special projects and oversize loads! We're proud to say that in our more than 60 years of business, we've been 99% on-time for all of our appointments. Contact our boat transport company today to get started!