Overland Boat Transport
If you're looking for boat hauling services in the Northeast U.S., look no further than Brownell Boat Transport!
You can trust your vessel in our professional, caring hands.
Our boat transport team is a talented group, and they are also boaters like you! We treat each boat as if it were our own, and we look forward to handling your power or sailboat gently, and transporting her safely to and from any point in the Northeastern U.S. As the inventor of the Brownell Hydraulic Trailer and Boat Stand System, we are experts in our field and ready to help you with your boat haul, launch, or transport. Contact us today to get started!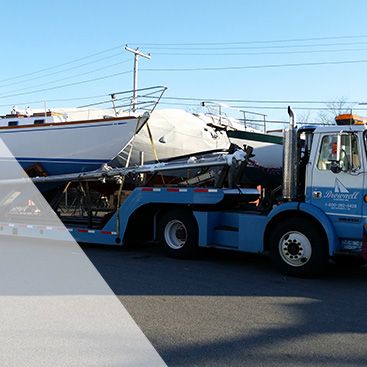 Why You Should Choose Brownell Boat Transport:
Our highly-skilled, profession boat handlers treat your boat gently and work efficiently.
Our hydraulic trailers make boat hauling, loading, and unloading fast, easy, and safe.
If you're looking for sailboat transport, we have mast carriers alongside the boat.
We offer overland transport to and from marinas and boatyards as well as residential pick-up and delivery.
We boat haul and launch power boats and sailboats to and from boat ramps.
You can set specific appointment dates and times and we'll be there!
Brownell Boat Transport's hydraulic trailers can self-load and unload vessels to & from boat stands, deliver sailboats and powerboats to a residence, and haul and launch sailboats up to 8′ draft from boat ramps.
We also provide mast stepping at selected boat ramps. Our hydraulic trailers are the fastest to load and unload with a crane or lift and boat yards are happy to see our team arrive. We will work with your schedule to select an exact date and time that works for you. For more information or to schedule a boat haul anywhere in the northeastern United States, contact us today.
Safe Overland Boat Transport
Here at Brownell Boat Transport, we understand that your boat is an investment — not only a monetary investment, but also a lifestyle investment. We understand the water's draw, and how nothing compares to being out on the water on a clear day. Or maybe your boat is your means of work, and because boats are integral to our business as well, we know how important it is for your boat to be hauled and transported safely.
We want to assure you that our boat transport company takes the best possible care of your vessel — no matter the size, type, or what you use it for. In fact, transporting a boat overland is often much safer that trying to reach your destination on the water, especially if you're traveling long distances or heading into a tricky port.
Our boat haul professionals are happy to talk with you about our hydraulic trailers, the process of loading and unloading your vessel, what type of boat insurance you will need, or any other matter you may have concerns about. Whether your boat is being transported short distances or far inland to your home-town boatyard, we're here to make sure the journey is safe.
Brownell Boat Transport Company
Brownell Boat Transport is proud to be a family owned business. We're based in Mattapoisett, where you can make a reservation at our do-it-yourself boat storage facility. We launch, transfer, and boat hauling services for all kinds of vessels, including oversized and heavy boats. We are proud to say that over the years we have been 99% on-time for all our appointments. Contact our boat transport company today to get started!