Boat Haul, Launch, And Transport
Boat Haul, Launch, And Transport Services
Contact Brownell Boat Transport for professional and reliable boat transport.
When you need boat transport services, choose professionals you can trust!
We'll haul out your boat in the fall and launch it in spring! Or transport it from one location to another whenever you need. Our boat transport company treats every boat as if it were our own. We use specialized, air-ride hydraulic trailers and can ramp haul and launch a variety of boats. We also offer self-loading and unloading to and from boat stands. Learn more about our boat haul services and request a quote from Brownell Boat Transport today!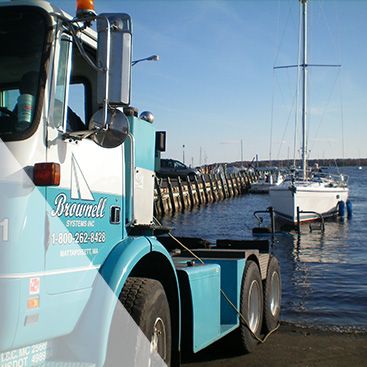 You can trust Brownell Boat Transport with:
Seasonal launches.
Seasonal haul outs.
Land to land transport.
Launch from a boat ramp.
Mast stepping and unstepping for sailboats.
Residential delivery.
Any other boat haul, launch, or transport need!
Ramp Hauling and Launching of Power and Sailboats
Our boat hauling team is a talented group and they are also boaters like you. We treat each boat as if it were our own and we look forward to hauling or launching your power or sailboat to or from a boat ramp. Our specialized, air-ride hydraulic trailers can accommodate ramp hauling and launching of boats with drafts up to 8', fin keels, twin keels, catamarans, trimarans, centerboards and wing keels. Our mobile cranes provide you with a mast stepping and un-stepping service for sailboats. We offer residential delivery and self-loading and unloading to and from boat stands. Contact Brownell Boat Transport today to learn more about your boat haul, launch, and transport options.
Mast Stepping and Unstepping
There are several things to consider when unstepping and removing a mast. All sails and sail covers need to be disconnected, flaked, folded, or rolled and stowed. In order to keep things organized, any battens should be labeled and removed. Any sail pendants or stops, tack shackles, head shackles, or clew shackles should stay on the boat's rigging, even as you unstep the mast. It does not need to be removed and placed with the sails. All lines should be coiled and stored. Then, the main sheet will be taken down and the boom removed from the sheet.
After you've made these preparations, and any others specific to your boat (such as disconnecting electrical equipment), our boat transport company will use our mobile cranes to unstep the mast. Our experienced boat movers will take care with your boat, taking into account winches on the mast, how far below deck the mast goes, and carefully balancing the mast so it cannot upend.
If you'd like more information about our mast unstepping and stepping services, or how we would approach this process for your specific vessel, contact Brownell Boat Transport today.