At 25 years old, in 1954, David "Fred" Brownell started his inland boatyard on Park Street in Mattapoisett, MA. High school was his only formal education, and he was self-taught. By the time he was 26, he was building his first of many high quality bass boats. His boat yard was located one and a half miles from the water, which posed a challenge as to how to get his newly built boats launched.
It was this necessity that led to his invention of the hydraulic self-loading boat trailer and adjustable boat stand system. After a few short years, the trailers and boat stands were in high demand by boatyards and marinas, and two newly built factories were opened in the Industrial Park of Mattapoisett. These boat haul inventions not only assisted him in his own day to day operations, but became products that completely revolutionized the boating industry throughout the United States and around the world.
Fred's son, Tom Brownell, grew up at the boatyard, where he learned every facet of boat building. In 1964, when Tom was 16, he started using the yard's hydraulic trailers to transport and launch other peoples' boats around town. As custom boat building slowly declined, the boat transportation and storage business was born.
In 1990, the transport division moved into its new home in the Mattapoisett Industrial Park where it became Brownell Transport Services, now owned by Tom Brownell and managed by his daughter Cindy Brownell. Our family is proud of its rich history, and we continue to support boat owners across the northeast! Contact Brownell Boat Transport today to learn more.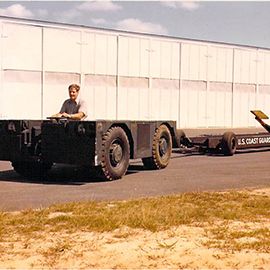 David F. Brownell, inventor, pictured driving one of the very early pole towed hydraulic trailers.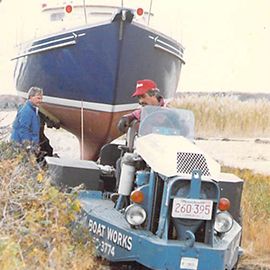 The first Brownell boat hauling tractor named "The Galloping Goose" was invented and built by David F. Brownell when he was 18 years old.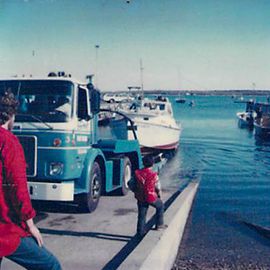 26' Brownell built Bass Boat launching into Mattapoisett Harbor in 1979.